Easily manage and update your website with WordPress, the #1 CMS on the Web.
A website that you can't update is like buying a car and the dealer doesn't give you the keys to the ignition. At Carlson Web Design, we believe that we would be giving you an incomplete product if we delivered a website that you could not update yourself. That is why we integrate the WordPress Content Management System (CMS) into every website that we create. We are NJ WordPress design experts specializing in WordPress installation, setup, development, and training.
What is WordPress?
WordPress.com vs. WordPress.org
There are two variations of WordPress that can be confusing to those who are unfamiliar with the software. WordPress.com is a web hosting company is rather limited in its capabilities.
WordPress.org is the site where you can download and install the software to your self-hosted website (i.e., you are not require you to host on WordPress.com). Many hosting companies offer a simple, one-click installation of the WordPress software and database.
Here's a good article, if you would like to read further about the distinctions between dot-com and dot-org WordPress.
Carlson Web Design specializes in working with self-hosted WordPress, a free, open-source website software platform that is available for download at WordPress.org. which is more flexible and powerful and has none of the restrictions of the dot-com.
WordPress is the most popular content publishing and management platform globally, currently powering 43% of all sites on the Web. It allows site owners with little Internet experience to easily update and add content to their website.
WordPress is used by organizations of all sizes, from small local business and mid-sized companies, non-profits, to larger corporations and Fortune 500 companies.
What can I accomplish with WordPress?
With the WordPress CMS, you can:
Add and edit text and images to your web pages
Embed or link videos anywhere on your site
Include audio files or links (useful if your business has a podcast)
Insert photo or video galleries into your pages
Add and edit new pages to your website
Create blog posts (articles) to your website
Create unlimited categories for the blog section of your site
Display archives of blog articles, videos, or podcast files
Easily integrate plug-and-play WordPress software modules to extend its capabilities
What is the alternative?
There are other content management systems available, but we think WordPress is the best – and is certainly the most popular, for good reason. The alternative is a plain-vanilla, HTML website that does not incorporate a CMS and database (all content management systems use a database).
A plain-vanilla site with no database and CMS may be fine for a small website that is infrequently updated. However, the owner will need to understand how to access their website's files, update the pages (knowledge of HTML is helpful), and upload the updated pages via FTP. This is beyond the abilities of most website owners. Allow our NJ WordPress design experts to create an easy-to-update website for you.
Custom WordPress Application and Plugin Development
First off, what is a plugin?
You can think of a WordPress plugin as an app (software application) that is design specifically to seamlessly "plug in" to the WordPress content management system software through its dashboard. These plugins might be for email forms, mailing lists, and even for online stores.
Although WordPress performs so many functions without any additional customization, it is unusual to find a WordPress website that does not at least a few software plugins to extend capabilities. There are times when your business website might require additional functionality. In such instances, you might want to employ a free or paid plugin.
One of the great things about WordPress is its enormous base of users and developers. Because of the popularity of WordPress and tremendous number of users, there is entire industry of companies that creates software specifically for the WordPress content management system.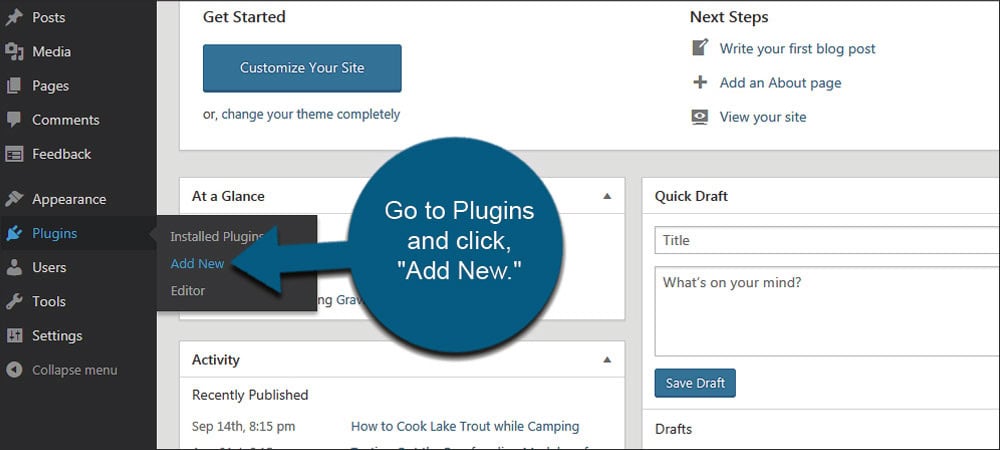 Many plugins work with minimal or no setup, while others require some setup and configuration, which can vary in complexity. Part of our NJ WordPress design and development services is selecting the best plugins for our clients' needs and correctly configuring them.
Many WordPress plugins are free
WordPress plugins are often free, and others are available as paid subscriptions. Frequently, plugin developers will offer a free version and also a premium/paid version that offers additional functionality. Oftentimes, the free version will meet the user's need. Other times, it is worthwhile paying for the "pro" version of the plugin.
There are plugins available for:
Email forms
E-Commerce shopping carts
Image Optimization
Photo and image pop-up windows
Newsletters (integration with services like Mailchimp, Aweber, and Constant Contact)
SEO assistance and tracking
…and much, much more!
What happens when a pre-built plugin doesn't fit my needs?
Sometimes a pre-made or pre-built WordPress plugin will not fulfill your business's needs. You might require some specific functionality that is not commercially available. If you need a custom WordPress plugin or want to extend the native functionality of WordPress, our NJ WordPress design and development company can build it for you. Let us know what you want to accomplish and we'll go forward from there.
Some of our recent NJ WordPress design and development projects include:
Architect project submission
Yoga class schedule calendar and online payment
Tell us how we can help you achieve your business goals through your website and we will plan and deliver your custom WordPress application.