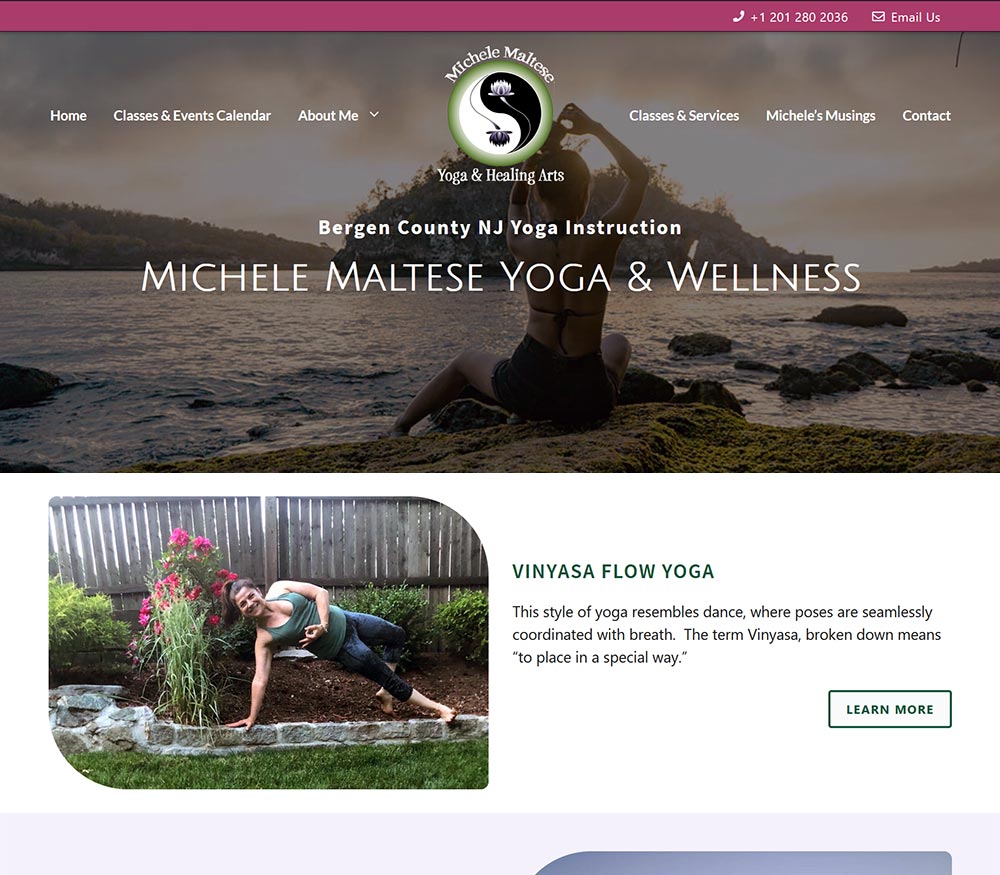 Project Details
Michele Maltese is a friend and neighbor who approached us about building a website for her yoga instruction practice. She has a home-based solo business in addition to teaching yoga classes at a few other facilities here in northern New Jersey. Michele has a dedicated following of students. She had no online presence at all and decided that she wanted a website to serve as both a communication platform for her existing client base and as a marketing tool to reach prospective new clients.
She was looking for a NJ yoga web design company when she found Carlson Web Design and hired us to design and build her new site. Like many small business owners and solopreneurs, Michele is excellent at what she does but was not exceptionally knowledgeable about website design and marketing. Part of how we help our customers is by guiding them in these areas. We instructed Michele on how to log in and use the WordPress content management system, update her pages, and schedule classes.
NJ Yoga Web Design and Custom WordPress Application Development
Additionally, we designed a custom calendar system to display Michele's upcoming classes and events. We also created an online payment form where her clients can remit payment after scheduling a session. We built this to be very simple and intuitive for a non-technical person. The calendar system and payment forms are implemented through an easy-to-use interface that Michele accesses once logged into the WordPress administration area. NJ yoga web design agency.
While we often work with larger companies, Carlson Web Design is happy to provide its services to smaller businesses and solopreneurs. We typically can come to some mutually beneficial arrangement with smaller organizations that have more limited budgets, so don't hesitate to reach out to us. You can schedule an appointment for a no-obligation phone consultation or get in touch with us through our contact page, regardless of whether you are looking for an NJ yoga web design company or are in another type of business.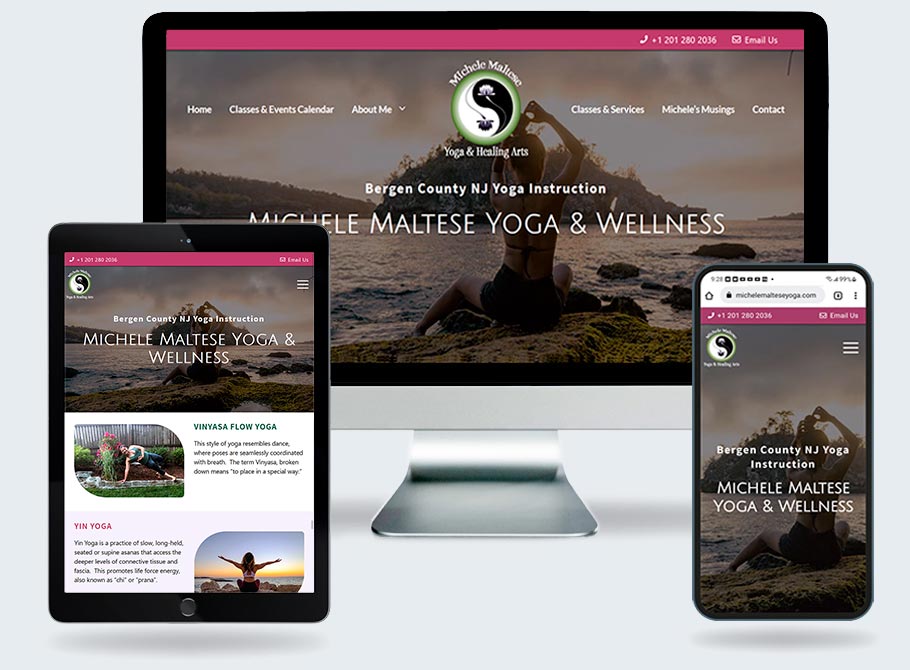 NJ yoga web design experts
Michele's business has grown significantly since we launched her website. Her client retention has also improved, and communication has been greatly improved and simplified because of the online calendar system that we built for her. In addition to the custom e-commerce and calendar programming, we endeavored to create a website that reflected the Zen Buddhist philosophy behind yoga. If you are seeking a NJ yoga web design agency or operate in another state, please click here to schedule a free, no-obligation consultation.